Rehab Management | Innovation Lab Awarded $30K to Help Improve Activities of Daily Living for Pediatric Ataxic Cerebral Palsy Patients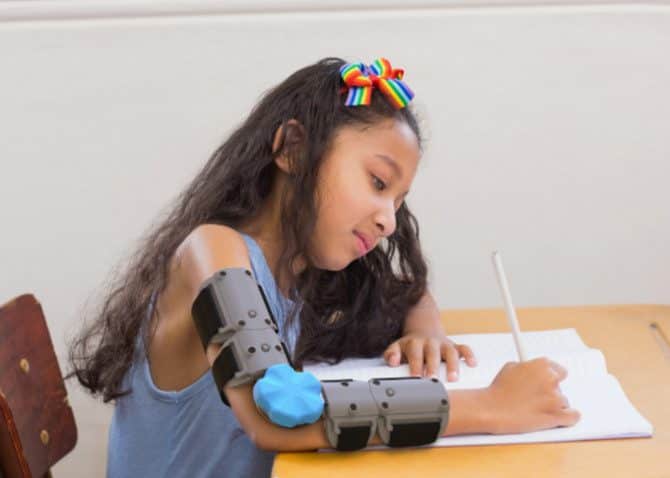 An Orange County-based startup, Innovation Lab, was awarded $30,000 in grant funding to help bring their "Move-D" mechanical elbow brace to market to help improve Activities of Daily Living (ADL) for pediatric ataxic cerebral palsy patients. The grant was awarded during the "Make Your Medical Device Pitch for Kids!" competition held during the 10th Annual Pediatric Device Innovation Symposium hosted by Children's National Hospital.
Sponsored by the National Capital Consortium for Pediatric Device Innovation (NCC-PDI), one of five grant programs funded by the Food and Drug Administration (FDA), the competition welcomed medical device technologies that help to address the broad unmet needs of children.
"Since 2013, we have been dedicated to improving the lives of patients through innovation, turning inspiring ideas into products. Many of these ideas come from clinicians who are working directly with patients and see where change is needed," said Ryan Kelly, General Manager of Innovation Lab. "I am so proud of this team for their work to advance Move-D toward market so it can make a positive difference in the lives of so many kids and adults," he added.
Prior to the pitch competition finals, Innovation Lab graduated from the first-of-its-kind NCC-PDI "Pediatric Device Innovator Accelerator Program," led by MedTech Innovator, a prestigious showcase and accelerator program with a proven track record of identifying early-stage medical device companies with the key characteristics required for commercial success and accelerating their growth through its vast ecosystem of resources. MedTech Innovator provided finalists with virtual in-depth, customized mentorship from some of the industry's leading executives and investors.
Awarding a total of $150,000 in grant funding to the winners, NCC-PDI is led by the Sheikh Zayed Institute for Pediatric Surgical Innovation at Children's National Hospital and the A. James Clark School of Engineering at the University of Maryland, with support from partners BioHealth Innovation, MedTech Innovator, and design firm partner, Archimedic.
"We are delighted to recognize these five innovations with critical NCC-PDI funding that will support their journey to commercialization. Improving pediatric healthcare is not possible without forward-thinking companies that seek to address the most dire unmet needs in children's health," says Kolaleh Eskandanian, Ph.D., M.B.A, P.M.P, vice president and chief innovation officer at Children's National Hospital and principal investigator of NCC-PDI. "We know all too well how challenging it is to bring pediatric medical devices to market, which is why we have created this rich ecosystem to identify promising medical device technologies and incentivize investment. We congratulate this year's winning innovators and applaud their efforts to help bridge these important care gaps that are impacting children."
All winning innovators receive mentorship and support through NCC-PDI's network of experts, consisting of medtech executives, investors, specialty pediatricians and FDA regulatory and business consultants. More…